Welcome to the Free Sapling Giveaway, a heartfelt endeavour by the Honavar Foundation—a non-profit organisation dedicated to environmental conservation and community well-being. At the core of our mission lies a commitment to fostering a greener, more sustainable world for all. Through this initiative, we aim to empower individuals and communities to participate actively in reforestation efforts and contribute to the restoration of our precious ecosystems.
The Ideator
This program is the brainchild of Mr. Manjunath Hegde, one of Honavar Foundation's trustee who has over 4 decades of experience in agriculture and co-operative sector. He has been a board member of several co-operative banks and self help groups. He was also district secretary for Bharatiya Kissan Sangh. He has vast knowledge of different variety of plants and native species.
Mr. Manjunath Hegde's love for plants is well known in the region and he used to personally spend in giving away sapling for free even before Honavar Foundation was formed. Over the years he has also figured out that local people are more keen to takeaway saplings of fruit bearing trees like Mango, Jackfruit etc. They also conserve them better because the expect fruits in return 🙂
Indirectly fruit bearing trees also have higher impact as source of food for wildlife, birds and bees. They also reduce human-animal conflicts, which arise from wild animals coming to farm lands in search of food. Yes, these are the little things that matter and have larger impact on the ecosystem, generally ignored by "photo-ops plantation programs" and officials sitting in capital cities without local knowledge!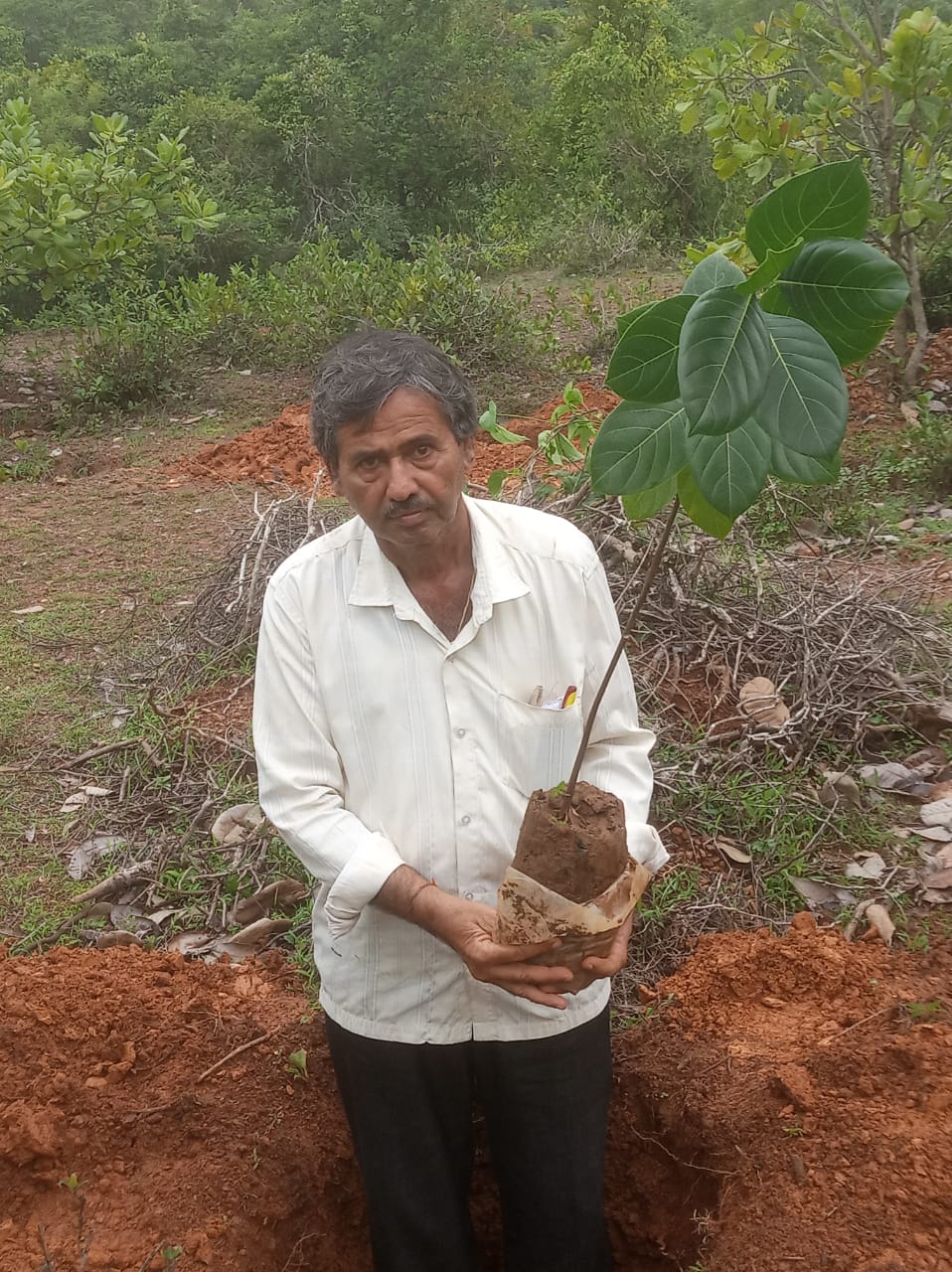 Who gets Free Saplings
Individuals: 2-3 saplings
Pickup from our office.
Groups: Up to 10 saplings each
Pickup from our office.
Or request delivery for 100+ saplings.
Institutions: 100+ saplings
Open to collaborative distribution events.
Delivered to the event venue.
Repeat requests are honoured every year based on requirements and survival of previously provided saplings.
Our Commitment to Greening Honavar Region of Western Ghats
The Free Sapling Initiative is not just about planting trees; it's about sowing the seeds of positive change. Here's how we're making a difference:
Community Empowerment
We believe that conservation efforts are most impactful when they involve local communities. Our initiative engages individuals, schools, colleges, and community groups to participate actively in planting saplings.
Native Species Selection
We prioritize the planting of native tree species, ensuring that the ecosystems are restored to their natural balance. Native trees are better adapted to the local climate, soil conditions, and support local wildlife.
Holistic Impact
Planting saplings is a holistic approach to addressing environmental challenges. It fosters community bonding, enhances local landscapes, and contributes to a sustainable future.
Join Us in Nurturing Nature
The Free Sapling Giveaway is an invitation to be a part of something greater—a movement that celebrates nature, inspires change, and cultivates a sense of environmental responsibility. By participating, you're not only receiving a sapling; you're receiving the opportunity to contribute to a better world.
As you watch your sapling grow, you'll witness the profound impact that small actions can have. The Free Sapling Giveaway is a reminder that even the smallest gestures, when multiplied, can create a significant ripple effect.
Planting Seeds of Hope
The Free Sapling Initiative is more than just a tree-planting program; it's a symbol of hope, unity, and shared responsibility. By participating, you become a steward of the environment, leaving a positive mark on the world around you. Together, we can transform landscapes, enrich ecosystems, and inspire a greener, more sustainable future.
Join us in planting the seeds of hope today. Let's grow together for a greener tomorrow.
For inquiries, partnership opportunities, or to get involved, please contact us.